Carter Synergy believes to have installed the world's first newly developed Multi Rotary Compressor Pack using CO2 as its refrigerant at a Tesco Express store in Shaw near Oldham.
---
The Multi Rotary Compressor Pack represents the successful combination of Rotary Compressors within the Green & Cool Condensing Unit range with control software which allows the compressor pack to operate reliably and efficiently. Most significantly, the Green & Cool unit uses CO2 as a natural refrigerant so significantly reducing carbon footprint and thus carbon tax.
By comparison, R404a as a refrigerant produces 3922kg of CO2 (its GWP or global warming potential) against that of CO2 refrigerant of just 1kg CO2. The estimated yearly running costs are over 25% less than HFC installation.

Tesco approached Green & Cool at Euroshop 2017 with the opportunity to trial an early production unit at one of their Express stores. Carter Synergy, as the UK distributor of Green & Cool plant and a Tesco installation and maintenance partner, was chosen for delivering the project.
As the project was a trial for Tesco, the Tesco Express Shaw project was benchmarked against a previous Carter Synergy installation at Tesco Express in Cinderhill, which uses a three scroll compressor HFC pack. Both projects have integrated fan condensers or gas coolers, and both have a similar measure of chilled cases within the stores.
The trial of the installation of the Multi Rotary Compressor Pack has been very successful with initial performance and energy consumption figures better than expected. Although the Rotary CO2 Condensing Units have a 10% higher installation cost, there is a much-reduced payback as maintenance costs and energy costs are much lower. On average, over a short trial period the Green & Cool Multi Rotary Compressor Pack at Tesco Express in Shaw is consuming 55% less energy than the HFC scroll pack at Tesco Express in Cinderhill.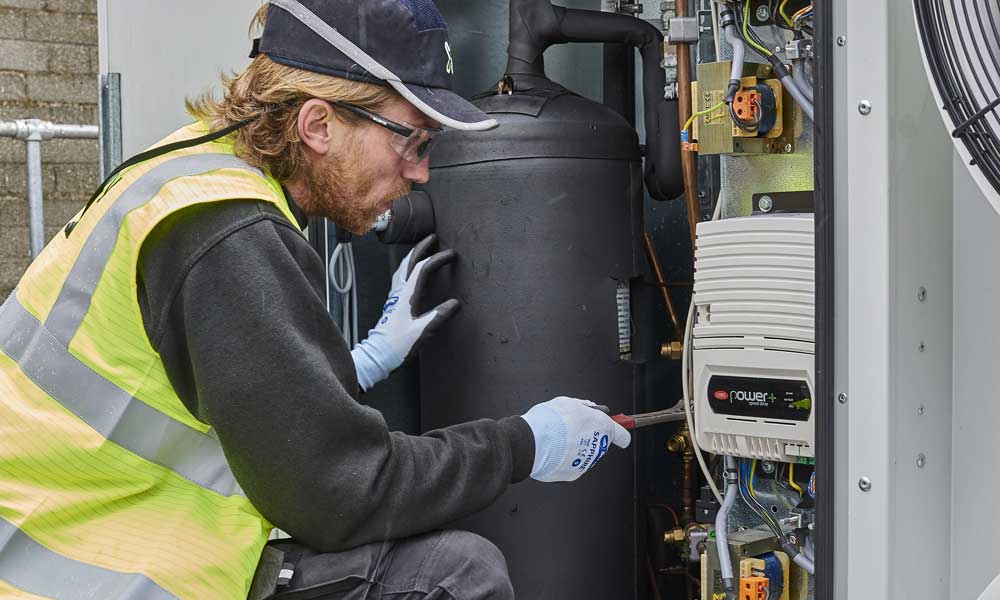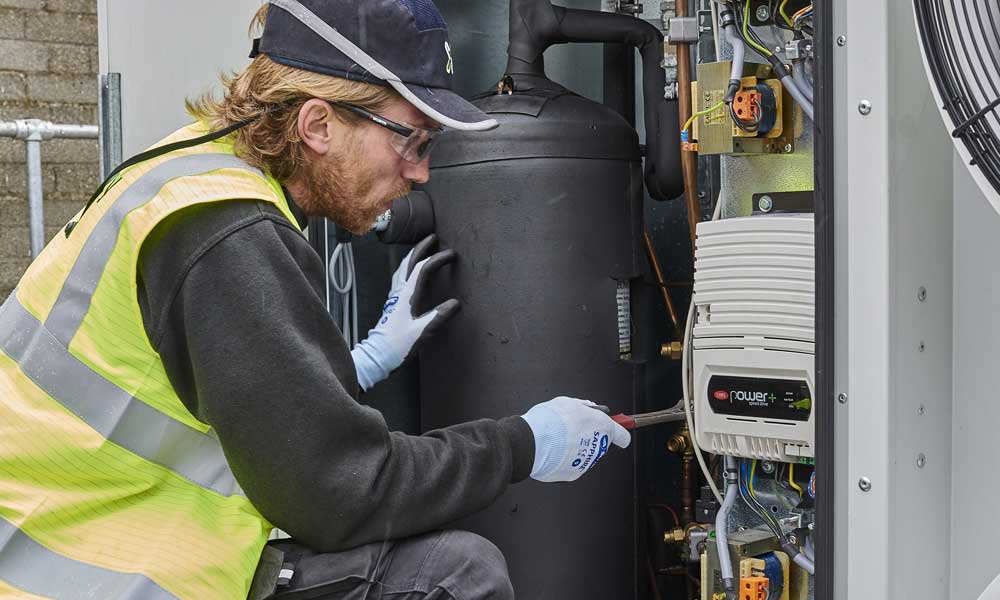 The installation by Carter Synergy at the Tesco Express in Shaw comprised the following;
• Integrated Green & Cool Multi Rotary Compressor Pack.
• LT condensing units.
• Carter Retail Equipment chilled cabinets with doors.
• Carter Retail Equipment produce cases (open fronted).
• HT and LT Coldroom ceiling mounted evaporators.
• Intelligent oil management system, considered by Green & Cool to be one of the biggest challenges to designing the new compressor packs.
The Green & Cool Multi Rotary Compressor Pack has performed extremely well to date operating at temperatures in excess of 20 Degrees C and temperatures below zero and across all duty requirements with no alarms generated. Both Carter Synergy and Tesco Maintenance have provided feedback on the unit's accessibility for maintenance, general layout, quality and finish and this information has been used by Green & Cool to refine the design for future production.
---
How the system was developed
Rotary compressors have been used in air conditioning and small scale refrigeration for nearly 100 years. Also, CO2 first entered use as a refrigerant over 100 years ago. Both the refrigerant and technology fell out of favour with the development of chemical refrigerants – CFCs, HCFCs, HFCs, all being engineered to have beneficial characteristics across the required temperature/pressure ranges.
A significant challenge of using CO2 as a refrigerant is the low critical temperature and their related high pressures inherent in a mid-temperature system. The development of new materials and improvement of existing technology has allowed CO2 to be used in large scale low, mid and high-temperature applications with very few additional safety considerations.
Predominantly used in air conditioning systems the rotary compressor was never fully adopted for refrigeration with scroll compressors being the standard and more prevalent for smaller HFC systems. A scroll compressor design is very difficult to adapt for use at the higher discharge pressures used in CO2 refrigeration systems with only LT low-pressure machines having so far been brought to market. Rotary compressors are relatively low cost when compared to reciprocating compressors due to their simple design and small size. The Green & Cool unit uses multiple rotary compressors, each approximately 10kW coupled with individual inverter drives. They also use EC gas cooler fans as standard, further increasing the energy efficiency and reducing noise levels which at the Tesco installation were a maximum noise level of 42dBA at 10 metres.
Carter Synergy together with Tesco, are continuing to monitor the performance and energy consumption of the new system. In the meantime, a larger capacity mid-temperature Green & Cool Multiple Rotary Compressor unit is currently being developed as well as an LT version, and these are likely to be trialed on main store refits later in the year.